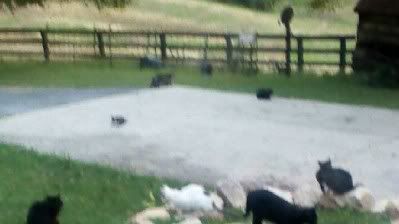 22 Cats, Oh my!!
Donations needed desperately to help these 22 cats left to fend for themselves.
Cat tails inc. thanks you so much for all the times you have helped us and the cats and kittens thank you too !! So we are sorry to impose now by asking again --- but
we had a call about 10 days ago about just one grey kitty cat in Baltimore on the interstate highway - about to be hit by very fast
cars!! And it was very cold and already getting dark - but we were able to get our very dear judy and her brother to go out and try to save this kitty cat. Well they went that night, then dawn the next day and for several days - 3 to 4 times a day !! Then You will not believe what happened! I received calls every few hours from them with updates. First they were able to get 6 cats, then 10 cats, then 14 cats. And on and on to 22 cats !!!
( none grey by the way - but we think that could have been a mistaken color!) all beautiful as they all are! And all tame and soo hungry! They just came as they called "Here kitty, kitty!" They filled all our carriers and crates and had to use boxes too!! It turns out a ware house had closed and left them there!! We feel very fortunate that we were there before the dreaded death wagon of animal control Any way we have our arms full to say the least! But our piggy bank is pretty empty. ):
So that is the story ! Maybe you know someone else that could help us help and care for / feed -/ vet them? By sending $ big purrrs cat tails inc. and joy Purnell , director 2702 brains ct. Crofton md. 21114 (a 501-c3)