7-12-12: Jennie is safe in a foster home!!!
All Jennie needs is a good diet, some exercise and a whole lot of TLC. Jennie is spayed, HW tested negative, vaccinated and even microchipped. Please consider giving this darling dog a chance.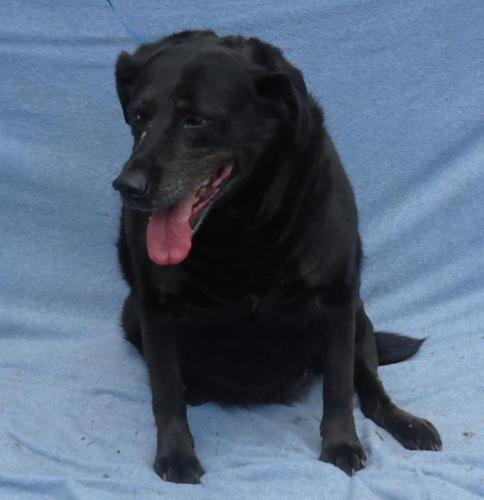 She came into the shelter over a month ago as a stray and no one ever came looking for her. I don't think she stands a chance getting adopted from the shelter which is so sad b/c she is such a wonderful dog. Jennie is a 7 yr old, extremely obese (she weighs an amazing 93 lbs) black lab. She obviously has not been well cared for. Add the stress of the kennel and the warn weather to the poor diet and Jennie's coat isn't too pretty either. We had her at adoptions yesterday and more than one small child remarked "look at that big fat dog" as if she were a joke. The thing is, this is THE sweetest dog. She wags her tail happily at every new dog (large or small) or person she meets. She gets so excited to see the leash and wants so much to go for walks. Its a bit slow going right now because of the extra weight and the pressure its probably
putting on her joints, but the desire is there.
I don't doubt for a second that she is housebroken. And when she saw she got to go for a car ride, she did her best to jump in the back of the SUV all on her own!
It just about killed us sending her back to AC yesterday and if we had space in a foster home for Jennie, we would not hesitate to take her into our program (so any CCHS fosters who may be interested, please let me know). Otherwise please contact the shelter folks below ( but let me know if you do help Jennie)
Contact
Caroline
wittle13@yahoo.com
Jennie's ID is 544374, she is in run 78
If you are able to help - please contact: